LINE CREEK is:
 
| | |
| --- | --- |
| | Pat Hughes :: bass, mandolin, guitar & vocals |
| | Hal Brim :: banjo, guitar, mandolin & vocals |
| | Carl Imes :: mandolin, guitar, bass & vocals |
| | David Young :: guitar, bass & vocals |
| | Derek Cathey:: guitar, mandolin, banjo & vocals |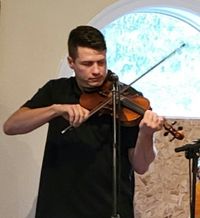 Jon Barrere :: fiddle & vocals

We live in the tri-county "metroplex" of Spalding, Fayette, and Coweta Counties of Georgia. We got started for real in the spring of 2009 under the name "the Pasadena String Band" (from the old joke about the used car salesman pitching a car by saying it was previously owned by a "little ole lady from Pasadena who only took it out on Sundays"--we only had about 30 minutes worth of material and we could only take the band out on Sundays). None of us had ever been to Pasadena, however, so we changed the name because all of us have to cross Line Creek to practice. 

We all received early exposure to bluegrass as kids watching THE ANDY GRIFFITH SHOW and hearing Briscoe Darling & family (the real-life bluegrass band, THE DILLARDS). We keep "Dooley" in the sets as a kind of homage. Some of us wore the grooves off the WILL THE CIRCLE BE UNBROKEN album. We love the old masters--Monroe, the Stanleys, the Osbornes and others but we also listen to artists like SELDOM SCENE, NEW FOUND ROAD, THE LONESOME RIVER BAND, NEW GRASS REVIVAL, ADRIENNE YOUNG & LITTLE SADIE, THE STEEP CANYON RANGERS, ALISON KRAUSS & UNION STATION, RICKY SKAGGS, and JERRY DOUGLAS.
Over the years, we have played shows, festivals, and churches with a combination of traditional bluegrass, bluegrass gospel, newgrass, and newgrass gospel.  You may just as well hear a modern worship song "grassified" as you may a Bill Monroe standard or Celtic fiddle tune.  Various members have come and gone but the core group that started in the late 2000's are still picking strong.